***BE VERY CAREFUL REMOVING THE GAS TANK!!!!***
***THE FUEL PIPE ON THE THROTTLE BODIES IS VERY FRAGILE AND EASY TO BREAK AND THE FUEL HOSE IS VERY SHORT!!!

Tools Required:
10mm socket
small pick tool to release wire connectors
*I recommend having a buddy help you hold the fuel tank as you remove it the first time so you don't accidentally break the fuel pipe.
Start by removing the seat (If you do not know how to please refer to
Kawasaki Ninja 400 Removal of OEM Bodywork )
Remove these two bolts:
There are 2 angled metal pins that secure the front of the gas tank. Gently pull and wiggle the tank back and up to slide the pins free from their grommets. Be very careful as you pull, the fuel line is very short and the fuel pipe on the throttle bodies is easy to break if you jerk on it too hard:
Once free, be VERY careful lifting the fuel tank to expose the vent and overflow hoses and fuel line. Squeeze the clamps and pull these hoses off of the bottom of the tank.
Now make your way to the fuel line.
Located red tap on fuel line and lift to unlock connector; Once lifted and unlocked you may then remove fuel line from tank.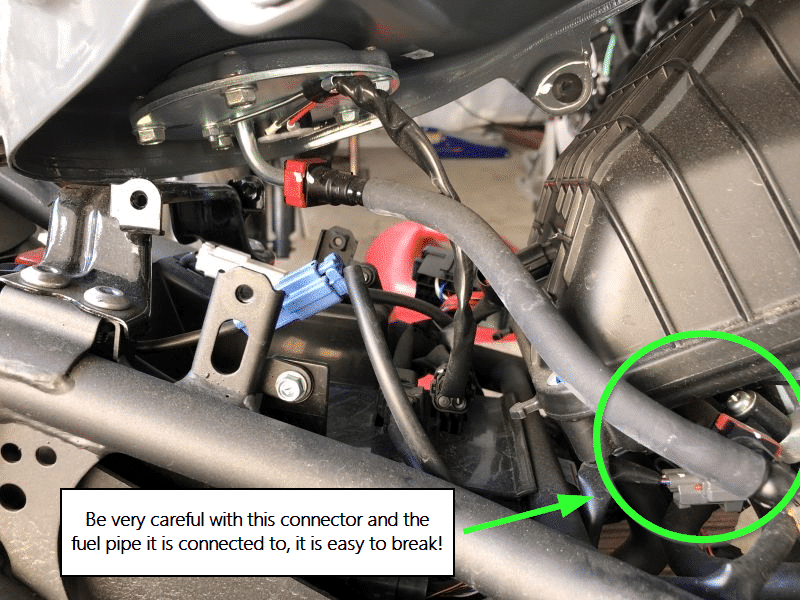 You will find one last electronic plug. disconnect to fully remove fuel tank